Oreo Popcorn – Is it a Real Popcorn Flavor?
Popcorn is great. If you are looking to spice up your popcorn, you can sweeten it! Oreo popcorn just sounds so good. It has been trending up for most of this year in internet search results so many people are looking for information on this topic. It is always one of our top selling flavors! Is there a simple way to make Oreo popcorn? I mean how to you get the cookies to stay on the popcorn? Do you eat some popcorn and then eat a few Oreo's?
You've come to the right place to learn more.
If you are looking to make it simple and looking to purchase Oreo popcorn your search has ended. We use crushed Oreo cooking in our Cookies & Cream K Street Kettle Corn to create an amazing flavor!! If you are looking for best ways to make it at home, then keep reading for some creative ideas.
Most flavored popcorn starts from taking cooked popcorn and adding flavors to it. For home made Oreo popcorn, the most fun you will have is experimenting with different ways to make this. We love experimenting too and it has helped us come up with some of the most popular flavors! Everyone has different taste buds and you can decide on how sweet you want your home-made popcorn to be.
---

We call our Oreo Popcorn "Cookies & Cream K Street Kettle Korn" and is one of our top selling flavors.
Here are some recipe options and ideas on different ways to make Oreo popcorn at home.
Popcorn –
The Core Ingredient! Either use microwavable bags of popcorn or freshly made popcorn, either using an Air Popper or a Stovetop Popcorn Maker. Typically, the Air Popper pops without oils and is a bit dryer and a Stovetop Popcorn Maker is more traditional. (We have heard great things about the Whirly Pop Popcorn Maker.) Once you have popped the popcorn, remember to sift out the kernels. The right sized colander would be great for this!
Plain, Buttered, or Kettle – Choosing your popcorn base will give you different results and this will probably be the biggest choice to make. If you like it sweeter, then the Kettle is perfect and is our choice of popcorn in our Cookies & Cream. Going with Microwavable Kettle Korn would be the quickest way to do this at home.
Topping –
Well, this one is easy, sort of. Taking either whole Oreos and crushing them or using pre-crushed Oreos or Oreo pieces will do great. You can't really call it Oreo Popcorn unless you use real Oreos, but substitute brands may work fine. (We use real Oreo pieces in our Cookies & Cream Popcorn recipe!) Then you will want it to stick to your popcorn. To do this, you will need to coat your popcorn with something that will accomplish a couple of things – 1) stick to the popcorn, 2) allow the cookies to attach to it, and 3) when complete, all the product remains together. For this, we use a sheet pan and recommend using white chocolate. Taking melted white chocolate is the perfect adhesive and drizzling it over the popcorn and adding the cookie pieces provides a great taste. You will then want to cool it a bit and then let the snacking begin! For quick cooling, you can put the sheet pan in the refrigerator for a couple of minutes, so the chocolate does its magic and acts as the holding agent to keep all the ingredients together.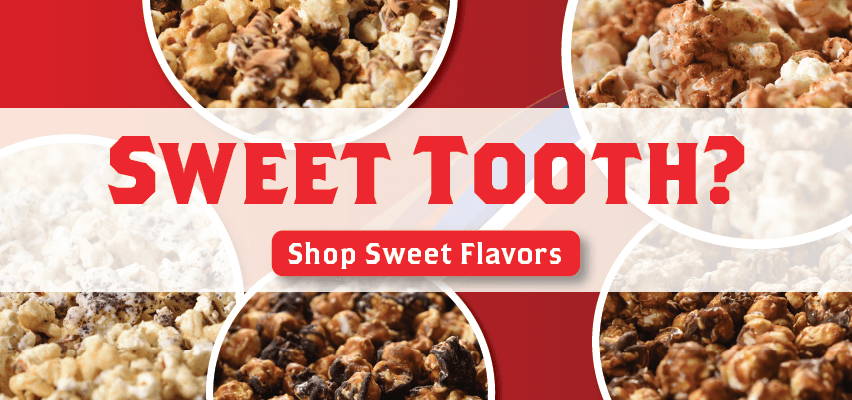 Quick Recipe –
One Bag Microwavable Kettle Corn – Freshly popped.
One Cup of White Chocolate Chips (the one cup is before melting) – melted in a microwave slowly or a double boiler (to prevent chocolate from burner.) Do not overheat chocolate (100-105 degrees is perfect.)
Spread out popcorn on a sheet pan, drizzle melted chocolate onto the popcorn, and then sprinkle the crushed cookies (5-10 Cookies depending on how much you want,) over the chocolate. Cool in refrigerator. You may even consider once this has cooled, flipping it over and doing the other side. This will give it an even sweeter and thicker tasting Oreo Cookie Popcorn.
Have fun! And feel free to share your home-made gourmet popcorn ideas with us!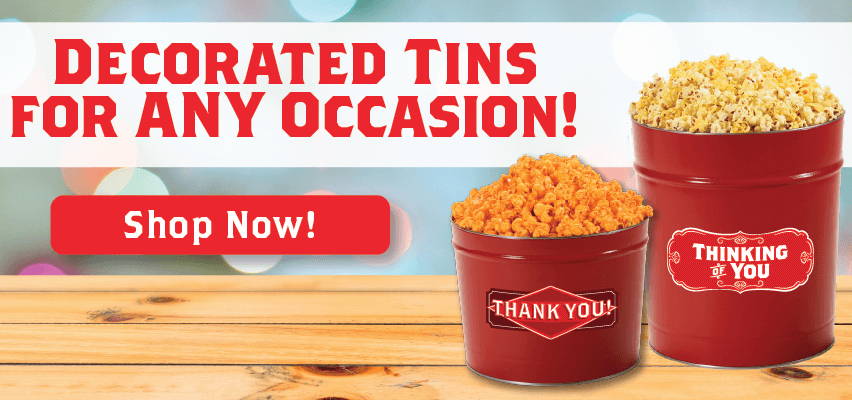 ---